Welcome
Life is colorful & beautiful
My life is creativity & art. It has always been like that! Since I can remember I wanted to paint and write. I want to share these special, magical, philosophical and colorful facets of being with you. Because I love to accompany people on their way of a conscious life. I want to inspire you to think outside the box, to feel and to expand your horizons. Life is so much more than most realize.
Galleries sorted by themes
You want a personal painting?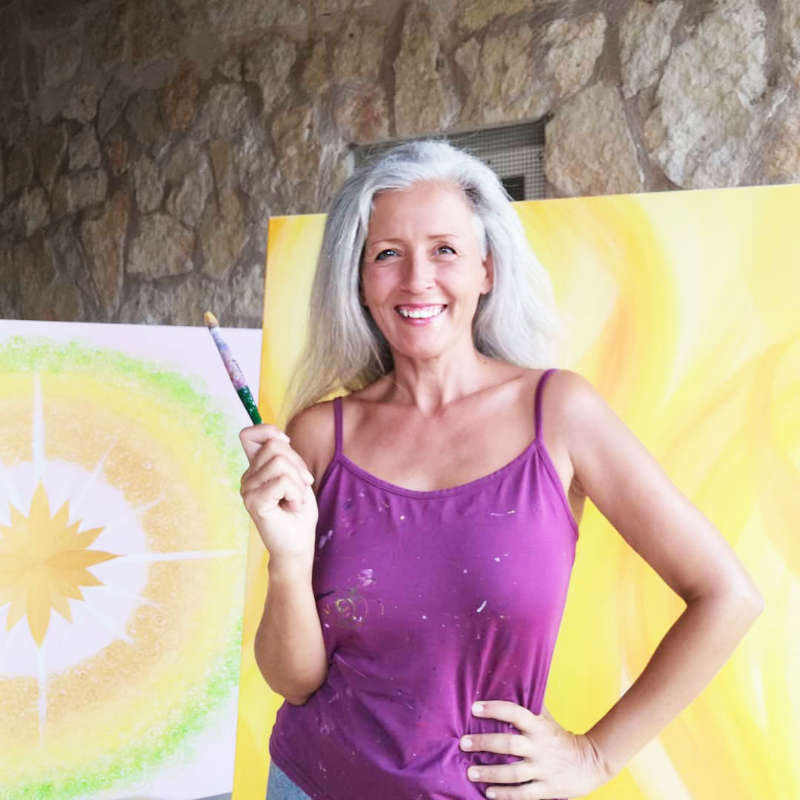 I paint a picture for you
To call up and manifest special and very personal, individual pictures, mediations or other supporting things from the source of your soul is one of my great gifts. With love, respect and mindfulness I connect in your order with your personal life source and ask for colors, shapes and words. In this way, what was previously invisible and unconscious becomes visible in many ways.
You want to talk to me?
Book an appointment with me
I have already accompanied thousands of people on their path through life. Often a single, very effective conversation is enough, then again people wish to be accompanied and advised over a longer period of time in order to (re)bring sustainable energy, order, success and joy into their lives. All my life I have been interested in the connection of body, mind and soul.
Find more great inspirations
What my clients say
From the bottom of my heart THANK YOU! For your support in my process. For your clear loving words and messages. For your very inspiring impulses. You give me so much strength and so much deep understanding of what is happening to me and around me! Heartfelt greetings!
– Inna
A few weeks ago you suddenly appeared in my life, it was a very difficult time for me. What a happiness and blessing. Since then I fall asleep with your words and sometimes wake up with them. I have become so much freer and more trusting because of it.
– Petra P.
What I find very, very great is the immediacy and passion with which you share yourself, your being, your doing and your works! Through this, your energy and message find entry points above and below reason, which is like a suit of armor.
– Customer